I was so eager to share my 50% La Senza voucher since it's my birthday month. Really happy that I have La Senza fanatic friends =) We kept the sale assistants as busy as they can be, checking stocks for us, calling up other branches to check size, transferring etc.. I guess not much explanation is required looking at the amount we bought. There are still 5 missing pieces, waiting to be transferred from other branches.

And even after 50% off, the bill still came up to a staggering half a thousand. Seriously?

This is the first time I've actually seen such a long shopping bill, grocery shopping aside.

They are not all mine. My items are in a small little bag. And of coz, all of us left really happy! Shopping takes away all our studying blues.

*********************
After shopping, we headed to dinner at Annalakshmi. It's Indian vegetarian ala carte buffet with no price tag so you "pay as you wish". Pretty awesome concept.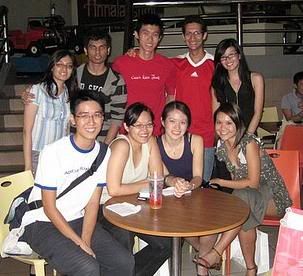 Labels: Shopping
liquan.
reflects
Wednesday, April 22, 2009
11:28 PM
0 comments
i swear it's over
After running round engine like a mad four-eye freak printing black white color and binding whatsoever, I finally submitted my hard copy thesis (thanks to my fussy examiner). My reward is to drive down with Nithe to Bird Park for Ben & Jerry's free cone =) No crazy queues, juz us and the birds and little school children on excursion.

liquan.
reflects
Tuesday, April 21, 2009
11:41 PM
0 comments
kindly reminder
Just in case you are busy studying away or still rushing your thesis, it's time to take a break =)
liquan.
reflects
Monday, April 20, 2009
12:44 PM
0 comments
meowwwww
liquan.
reflects
Saturday, April 18, 2009
11:37 PM
0 comments
25 hrs a day won't save me
I'm not sure whether I made the right decision by prolonging my suffering till Monday. More sleepless nights to come and reports to smoke. I need more time yet I can't wait for this week to quickly be over.

liquan.
reflects
Thursday, April 16, 2009
12:55 PM
0 comments
flea titan
WL and I braved the teenage crowd for a flea exploration at Mount Sophia, Old School. The whole place was packed, hot and stuffy but we managed to bag some steals =) My buys include 1 vest and 1 cropped blazer for $5 each, 1 asymmetric jumpsuit for $15 and 1 Zara dress for $20. Almost spent the same amount on a Topshop dress. Luckily I held back. 4 VS 1 is kinda a no brainer.
from the left: $5 crop vest, $20 Zara dress, $5 crop blazer, $15 asymmetric jumpsuit
Labels: Shopping
liquan.
reflects
Saturday, April 11, 2009
9:04 PM
0 comments
i <3 mesh
This dress is so awesome, but the price isn't so friendly... I shall attempt it on my machine after exams. I'm so excited!
liquan.
reflects
Monday, April 06, 2009
8:19 PM
0 comments
23++
2 years ago, I celebrated my 21st on
il-lido
's yacht.

2 years later, I'm back. Dinner at gorgeous il-Lido, facing South China Sea.


Food was GOOD! The molten lava cake was OMGGGGGG....

liquan.
reflects
Sunday, April 05, 2009
10:47 PM
0 comments
happy pixie day
Thanks to the girls for organizing this AWESOME birthday dinner for PIXIE. She obviously had hell lots of fun!
Come on man. Desserts are the way to go! MUST TRY: home made banana cream pie. hahaha. The waitress must have hated us =( It's like $0.90 digestive biscuit, $2.00 Del Monte Bananas, $10.00 whipped cream. The chocolate cakes were really yummy though.

lalalalala~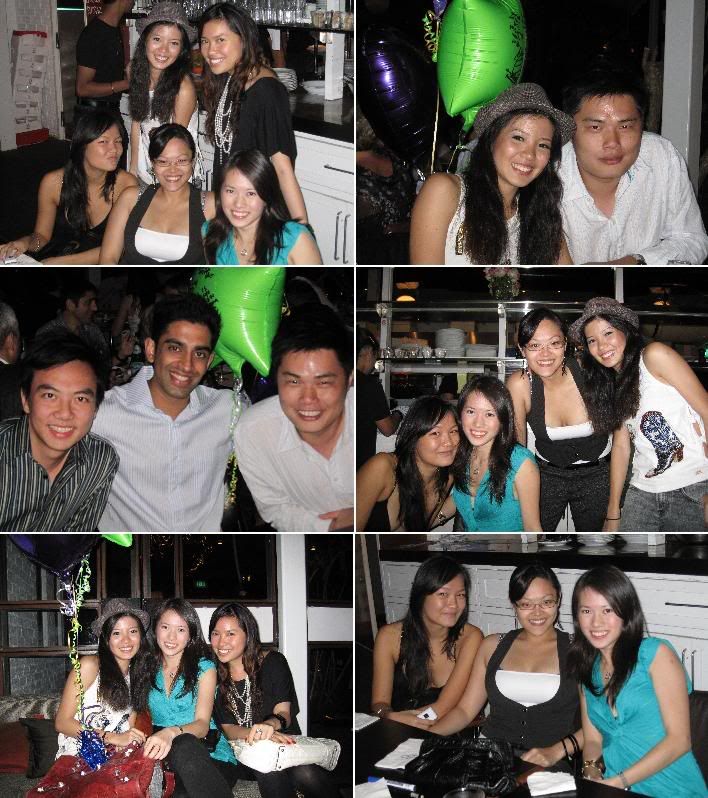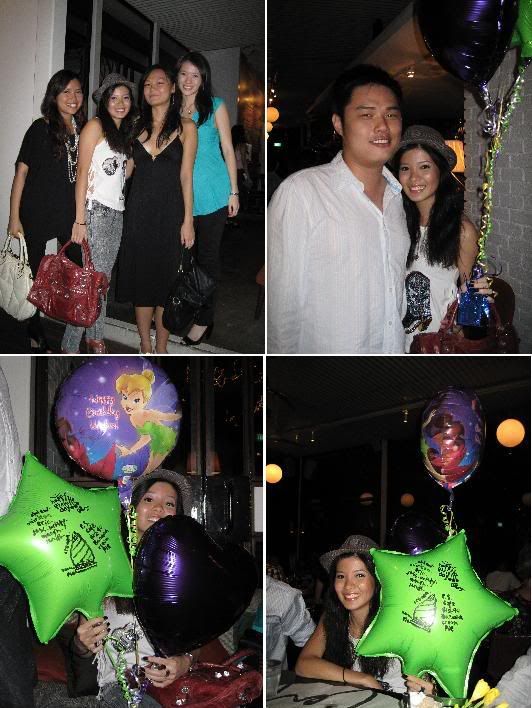 hat: friend's
top: Miss Sixty
denim: 7 for all mankind
heels: PedderRed
bag: Balenciaga


Chiew actually used her liquid EYELINER to decorate my balloon.
Pretty isn't it =) Love my girls + boys
Labels: Gatherings
liquan.
reflects
Saturday, April 04, 2009
11:57 PM
0 comments
Happy Birthday Pixie
liquan.
reflects
Friday, April 03, 2009
5:54 PM
0 comments
shout out
My sis needs a stand-in bf for my birthday dinner. Anyone interested? ahahahaha

liquan.
reflects
Thursday, April 02, 2009
8:48 PM
0 comments
happy april's fool
How can you not know you suffered a heart attack? My uncle actually waited for his wife to return and queued up at the polyclinic before they called an ambulance to admit him to hospital for surgery. WTH was he thinking???

liquan.
reflects
Wednesday, April 01, 2009
10:57 PM
0 comments