She is the eldest grandchild from my dad's side, she is the first to get married, she is the only child. It's kinda a big deal. The groom is a Malaysian whose family migrated to Australia.I probably won't have a chance to know him better but he seems like a really cheerful and bubbly guy.
My cousin and her husband. They look so cute together. Kelvin looks like this HK actor....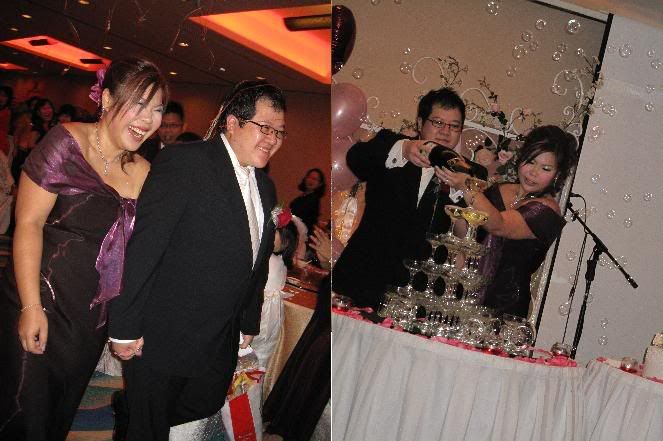 The groom only had 3 tables since he has no relatives in SG. Bride's family ~10 tables, bride's friends ~4 tables, leaving > 50% of the remaining tables my uncle's friends. All his airforce and Mindef colleagues and friends.

This is kinda an incomplete family shot. The mains are all missing???
liquan.
reflects
Saturday, March 21, 2009
11:47 PM
0 comments
color
I love the intensity and richness of sheep's blood. Please let me put some on my nails......

liquan.
reflects
Thursday, March 19, 2009
8:41 PM
0 comments
dream it, smell it, touch it...
This pretty much sums up my mood now =) I took a plunge and I'm literally rock bottom but I can't be more thrilled. Thanks thanks thanks.

liquan.
reflects
Wednesday, March 18, 2009
11:56 PM
0 comments
where does the energy come from?
It doesn't help when my classmate who works in the industry and has a full time job can set aside 2hrs daily to study whereas I, with ZERO financial knowledge, am juz sitting on my books.

liquan.
reflects
Monday, March 16, 2009
12:13 AM
0 comments
who cares about vanity fair
Lael had an extra ticket to Loreal Private Sale and she invited me to join her. It totally made up for the lacking of this round's vanity fair. We were happily grabbing stuffs from Lancome, Kiehl, YSL and Loreal. Stuffs that we bought ranged from $10-25! I was able to get better stuffs than MAC at similar prices. Isn't this pretty?
Labels: Shopping
liquan.
reflects
Sunday, March 15, 2009
12:05 AM
0 comments
heaven's a better place
The thing that I feared happened. Everyone has been praying and hoping that my uncle would at least tide through till after my cousin's wedding next week but he left us today. After struggling for half a year, he's off to a better place now. Not only have we to deal with the grief, the family has to be splitted, 1 group will be helping out with the funeral and the other to attend the wedding. Dowager's instruction is that all should attend the wedding except 1 family. My parents stepped up but since I'm supposed to help out in the wedding, only my parents won't be attending the wedding. How untimely of things but guess that's why life's a bitch... This is gonna be tough.

liquan.
reflects
Thursday, March 12, 2009
7:54 PM
0 comments
vanity fair without mac?????
So sad. This is my last Vanity fair and MAC is excluded =( I shall not even bother squeezing with the crowd and save my dollars for Isetan Private Sale the next day instead.

liquan.
reflects
Tuesday, March 10, 2009
2:03 AM
0 comments
monday = BIE lunch day
The only thing I like of Monday is luncheon with fellow BIE people. It's the only time where I don't feel alone is this futile job hunt. Also, I know I'm gonna lose touch with many of them after graduation so now is the time to strengthen the rapport.

There's always a positive side to every negative thing.

liquan.
reflects
Monday, March 09, 2009
5:53 PM
0 comments
fly me to china for dinner

We went to China for dinner. Alright, it's some Chinese restaurant but everything about it has the 'Imperial' element. And of coz it's hidden at some corner in National Museum.
All our culinary utensils had traces of jade

My mum has been dying to try this restaurant for ages. She has finally created an reason (my sis's 'A' Levels results) to splurge. Now she has a headache coz she doesn't know what to study. Definitely NOT BIE.

Totally loved the fried sharks fin, USA wagyu beef and award winning roast chicken. The skin is so crispy and thin, and its flesh is smooth like baby butt and literally melts in your mouth.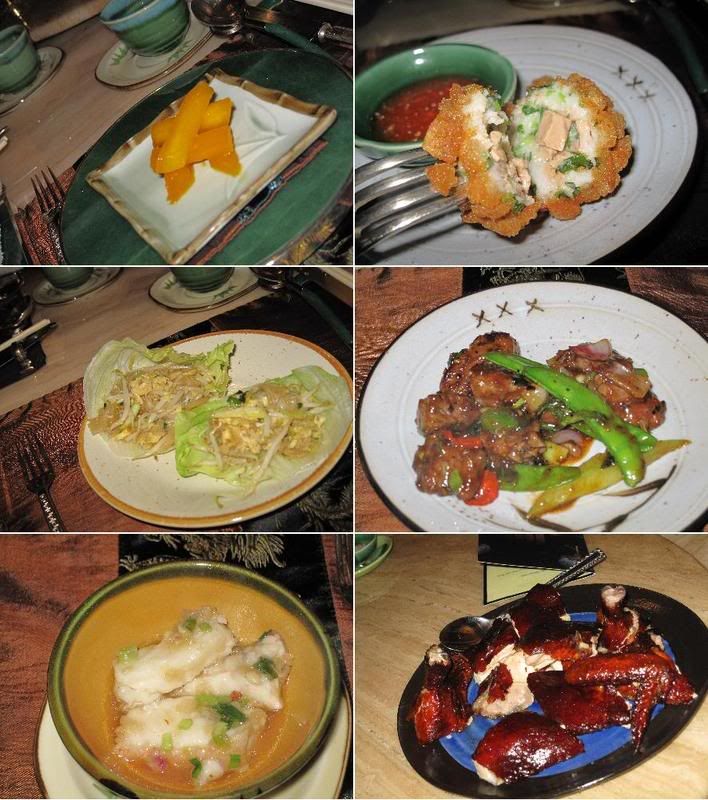 My cousin's daughter is so adorable. She has her signature 'pig face'. This 15 month baby has as many shoes as me!!!

me: Topshop dress, Zara heels, vintage Burberry sling
sis: Esprit denim jacket, Warehouse dress, Charles&Keith heels
liquan.
reflects
Saturday, March 07, 2009
11:16 PM
0 comments
ups and downs
You know how monitoring downloading speed can be so addictive. I've managed to put that into practical use.

liquan.
reflects
Friday, March 06, 2009
1:51 AM
0 comments
lalalalala
I'm embracing my height (or lack of height) with these really cute ballet pumps from Pedder Warehouse Sale. They are really comfy =) And there was this pair of patent red Marc Jacobs peeptoes which were also really comfy but it was only 2". Lael's philosophy is either flats for comfort or sky high heels so even though it may be my only chance of owning a pair of Marc Jacobs (70% off), I had to give it a miss. Squeezed in an additional 20% (5 pairs or more) on top of the discount as we managed to ride off a group of ladies. It's wonderful how shopping can unite women =) My bathroom is gonna be my secret shoes hiding place.


Also, we've probably covered every single designer store in town today. Someone's preparing her wistlist for her Paris flight. I'm so JEALOUS!!!
Labels: Shopping
liquan.
reflects
Tuesday, March 03, 2009
8:33 PM
0 comments
happy birthday chiew & kristy
Happy Birthday Babes! I have to admit that when the lady asked me how many candles I wanted, I paused for a LONG while, counted my fingers and gave a very uncertain answer. I used to wonder how can people not know how old they are. Now I finally get it. It's like after 21, you are juz 1 year older (wiser maybe?) but that's it.

Labels: Gatherings
liquan.
reflects
Monday, March 02, 2009
7:27 PM
0 comments
2 of my fav items: denim and heels
There's something special about sale shopping. It's unlike shopping at a normal boutique where you spot something that you like, try it on in different sizes, compare with different colors,go home and sleep over it and decide. Sales shopping is something you can't control. It's either there or not. Sometimes, there's only 1 piece, 1 size, something different from those you already have, the right cutting, and the perfect price. You miss it and there's no second chance whereby you hope that it will still be there the next day. There's this thrill of finding the best deals during a sale, something that is soooo past season that it's actually making a comeback.

I'm totally pleased with myself. I don't think anyone can find a pair of decent denim for $33 and I managed to snatch 1 pair of acid wash skinny from
7 for all Mankind
!!! How awesome is 90% discount man....
Labels: Shopping
liquan.
reflects
Sunday, March 01, 2009
12:03 AM
0 comments