I was so eager to share my 50% La Senza voucher since it's my birthday month. Really happy that I have La Senza fanatic friends =) We kept the sale assistants as busy as they can be, checking stocks for us, calling up other branches to check size, transferring etc.. I guess not much explanation is required looking at the amount we bought. There are still 5 missing pieces, waiting to be transferred from other branches.

And even after 50% off, the bill still came up to a staggering half a thousand. Seriously?

This is the first time I've actually seen such a long shopping bill, grocery shopping aside.

They are not all mine. My items are in a small little bag. And of coz, all of us left really happy! Shopping takes away all our studying blues.

*********************
After shopping, we headed to dinner at Annalakshmi. It's Indian vegetarian ala carte buffet with no price tag so you "pay as you wish". Pretty awesome concept.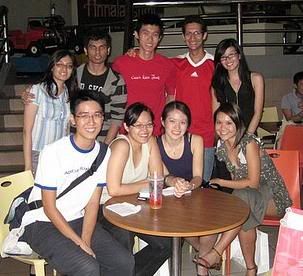 Labels: Shopping
liquan.
reflects
Wednesday, April 22, 2009
11:28 PM
0 comments
i swear it's over
After running round engine like a mad four-eye freak printing black white color and binding whatsoever, I finally submitted my hard copy thesis (thanks to my fussy examiner). My reward is to drive down with Nithe to Bird Park for Ben & Jerry's free cone =) No crazy queues, juz us and the birds and little school children on excursion.

liquan.
reflects
Tuesday, April 21, 2009
11:41 PM
0 comments
kindly reminder
Just in case you are busy studying away or still rushing your thesis, it's time to take a break =)
liquan.
reflects
Monday, April 20, 2009
12:44 PM
0 comments
meowwwww
liquan.
reflects
Saturday, April 18, 2009
11:37 PM
0 comments
25 hrs a day won't save me
I'm not sure whether I made the right decision by prolonging my suffering till Monday. More sleepless nights to come and reports to smoke. I need more time yet I can't wait for this week to quickly be over.

liquan.
reflects
Thursday, April 16, 2009
12:55 PM
0 comments
flea titan
WL and I braved the teenage crowd for a flea exploration at Mount Sophia, Old School. The whole place was packed, hot and stuffy but we managed to bag some steals =) My buys include 1 vest and 1 cropped blazer for $5 each, 1 asymmetric jumpsuit for $15 and 1 Zara dress for $20. Almost spent the same amount on a Topshop dress. Luckily I held back. 4 VS 1 is kinda a no brainer.
from the left: $5 crop vest, $20 Zara dress, $5 crop blazer, $15 asymmetric jumpsuit
Labels: Shopping
liquan.
reflects
Saturday, April 11, 2009
9:04 PM
0 comments